Program/Technical Questions
How is Book Taco different from Accelerated Reader®?
Answer:
1. Functionality – Much more and inclusive
Similar to AR, Book Taco offers reading comprehension based "Book Quizzes" but that's were the similarities end. Book Taco goes well beyond AR's one dimensional quiz approach and provides a platform that is inclusive of all the student learning types by offering a wide variety of reading related activities where students can:

– Log their daily reading time
– Write about the books they are reading
– Create Book Talk videos
– Learn book specific vocabulary & spelling to mastery – over 150,000 word lists
– Work on book related printables
– Take a reading comprehension quiz
– Earn rewards
– Customize avatars
2, Platform Independence – Can't tie us down!
In Book Taco students get their own web based accounts allowing for 24/7/365 access to our program from school, home, grandma's house, or anywhere they have an internet connection. Our architecture not only provides for a dynamic platform during the academic year, but, Book Taco is also perfect for your school's summer reading initiatives as well.
3. Affordability – Save a ton
At a fraction of the cost, Book Taco is far more affordable. Request a quote and find out.
Is BookTaco aligned with Common Core State Standards or my state standards?
Answer: Yes.
Keeping in mind Common Core State Standards (CCSS) is not a curriculum but a set of standards.  BookTaco.com is a resource that supports CCSS initiatives such as foundational reading skills, writing, language arts and cross curricular learning.
To see how our program aligns aligns with state and Common Core State Standards click here!
Do you accept Purchase Orders?
Answer: Yes! We accept purchase orders. For an official quote, email admin@booktaco.com and let us now how many teacher accounts you need and how many students you have. We'll then email you an official quote from which you can generate your purchase order.
Snail Mail:
Synergy1 Group, Inc.
130 Corridor Road
Unit 2152
Ponte Vedra Beach, FL
32004
Phone: 1 888 448-3363
Can parents and homeschoolers create a Book Taco account?
Answer: No.
Only teachers, librarians, media specialist and administrators from an accredited  public or private school can create Book Taco accounts. For parents and homeschoolers, please visit BookAdventure.com which is designed for home use.
Do you provide the printed, electronic books or audible books?
Answer: No. We don't provide books. ebooks or audible books.  Our students either own or borrow the books from their school, classroom or local library.
Can I add book quizzes?
Answer:  Yes.
If we do not have a book quiz you can create one.  All book quizzes are reviewed by our book quiz team before going live.
Do you have a letter to send home to parents?
Answer: Yes.
You can find the letter in your teacher's account 'Settings' tab.

Can my students use Book Taco at home?
Answer:  Yes.
You will need to provide students with their login credentials and students can access at home or school.  You have an option to turn off book quizzes being able to be taken at home.
Please note: For Clever sign on users, students will need to be able to access their Clever portals from home to access Book Taco.
How do my students earn game coins?
Answer:  Students earn game coins with each activity they pass or when a teacher reviews the students submitted work and awards coins. These coins can be redeemed in our Rewards page. Keep in mind teachers can customize the Rewards page settings and have the option to turn the page off completely, set to "Weekends Only" mode or limited the amount of daily play.
Is there a money-back guarantee?
Answer: All premium memberships have a 14 day refund policy with a $7 processing fee for cancellations. You can try before you buy with our free membership which requires no financial information.
How do I start a membership?
Answer:  You will first need to create an account to start your membership via the 'Join!' button (top of the page).  Once you have an account, log in and click on MEMBERSHIP (top of the page). We require no financial information to create an account.
How to contact us?
Answer:
1.  Live Chat: Real time response during business hours 9 a.m.-5 p.m. EST we offer a live chat from the home page.

2.  eMail: The second quickest way to contact us and get a response within hours is via email: admin@booktaco.com
3.  Twitter: @BookTaco
4.  Phone: (888) 448-3363
5.  Snail mail:
Synergy 1 Group, Inc.
Attention: Book Taco
130 Corridor Road
Unit 2152
Ponte Vedra Beach, FL 32004
My Book Taco Premium teacher account is now activated. How do I get started?
Answer: First thing a teacher should do is create their student accounts. *Note: If you are using Clever, Classlink or Google Classroom the student accounts are created automatically.
Creating Student Accounts:
Step 1: Click the Student tab at the top of your dashboard page
Step 2: Click ADD/EDIT Students
Step 3: Scroll down and click the blue Add a Student button
Step 4: Fill in the fields, keeping in mind, the User Name needs to be unique to the Book Taco universe as each student has their own account. User names like "AshelyM" or "JaAdams" have long been taken so if your school is using any kind of first name, last initial of first initial, last name convention, try adding a school related prefix or suffix to those user names to remain unique.
Step 5: Once all your student accounts are created, scroll to the bottom of the page and print out a log of these accounts.
Step 6: Distribute to your students their user names and passwords and they are ready to log in to their new student accounts.
How do I add, view, edit my students?
Add, edit, view students instructions:
Click on the 'STUDENTS' tab on top of page (image #1)
Click on the 'ADD/EDIT STUDENTS' button (images #2/#3)
To View All Students:
– Click on the 'VIEW ALL STUDENTS' button
To Add Students:
– Click on the 'ADD A STUDENT' button
Please Note SSO (Single Sign On) users like Clever, Google Classroom or ClassLink add/edit student through Clever, ClassLink or Google Classroom applications.
---
Image #1:
Image #2:
Image #3:
How can a parent or guardian view a student's progress?
Answer: Much like teachers, students also have a Reports page where parents can view the student's activities in Book Taco including logged reading time, quiz scores, vocabulary results and books completed.
Book Goals – When setting up a student's account, what should I enter for Goals?
Answer: Goals represent the number of books you want a student to try to read in a given period of time. The teacher can use any period of time and "Goals" can always be edited and amended.
Activities/book quizzes/game page:
Can I turn on/off activities, lessons and tests?
Answer:  Yes.  Book Taco is customizable! Turn activities on/off by logging into your teacher account and click on the "Customization'" tab (top of page). Here you can turn on/off learning activities.  When you turn an activity 'OFF' it will not been seen in your students' accounts.
Can a teacher override a student's book quiz block if the student exceeds the number of allowed attempts.
Answer:  Yes.  Teachers can override their classroom book quiz settings and allow an individual student to take a blocked book quiz.
To do this the teacher needs to log into the student's account and go to the book quiz. The teacher would then click on the override button.  For additional security, the teacher will need to enter their teacher password to allow access.
Step #1 – click on the override button
Step #2 – enter teacher's password
How do teachers control the rewards page (game page)?
Answer: Log into your Book Taco Premium Teacher's account. Click the Rewards page tab at the top of the screen. Find the green text that says "CHANGE GAME PAGE SETTINGS" and left click. You can now turn the Rewards page off for all students in your classroom. Or, you can set to "Weekends Only" mode and set the student's daily play time allowance.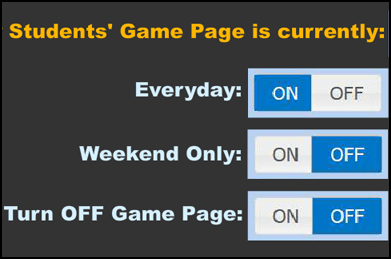 Can book quizzes only be taken at school?
Answer:  Yes.  Book Taco is very customizable!  You can turn off book quizzes from being accessed at home by logging into your teacher's account and click on the "Customization" tab (top of page).  On the Book Quiz section click on 'Change Quiz Settings'  button, this will open up book quiz customization options.  Click on the 'In-School Only' button.
Selecting books/book lists
Can students self-select books to work on in Book Taco?
Answer: Yes, all teachers and students can search the Book Taco database by title or author to find a book and once found, that book can be added to their Quick Find Book List. Students can then click the All Books List tab, and then select the drop down list in My Book Lists, find their Quick Find Book List, click that, and then find the book they just added and click the ACTIVITIES button to start their work.
How do I remove books from my book list?
Answer (example deletes a book from the Quick Find Book List):
Login to your account
Click the Book Lists tab, top of the page
Click the purple Build/Edit Lists button (image below)
Scroll down and find your Quick Find Book List (image below)
Over to the right, click the yellow FIND/ADD/DELETE
In the far left column, under each book cover, you'll see a delete button.(image below)
Delete the covers you no longer want appearing in your Quick Find Book List
Step #3:

Step #4:
Step #6:
Can I import book lists from another member?
Answer:  Yes. Log into your teacher's account and on your 'All Book Lists' tab (top of page).  On the top of the Book List page click on the 'Import Word Lists' button. You can select which book lists you would like to import by entering another member's username.